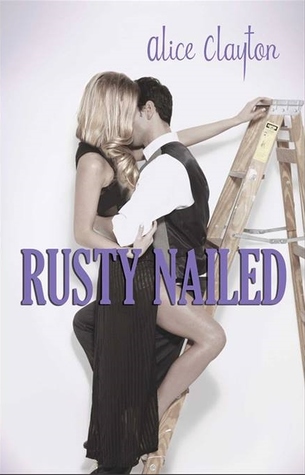 Author: Alice Clayton
Series: Cocktail Series #2
Genre
:
 New Adult Contemporary Romance
Publication Date
:
June 24th
, 
2014
Source
:
I was given a review copy from Netgalley in return for an honest review
In this sequel to Wallbanger, the second book in the Cocktail series, fan favorites Caroline and Simon negotiate the rollercoaster of their new relationship while house-sitting in San Francisco.
Playing house was never so much fun—or so confusing. With her boss on her honeymoon, Caroline's working crazy long hours to keep the interior design company running—especially since she's also the lead designer for the renovation of a gorgeous old hotel on Sausalito. So with her hotshot photographer boyfriend gallivanting all over the world for his job, she and Simon are heavy-duty into "absence makes the heart grow fonder" mode. Neither has any complaints about the great reunion sex, though! Then Simon decides he's tired of so much travelling, and he's suddenly home more. A lot more. And wanting Caroline home more, too. Though their friends' romantic lives provide plenty of welcome distraction, eventually Caroline and Simon have to sort their relationship out. Neither wants "out of sight, out of mind," but can they create their own happy mid-ground cliché?
USA TODAY bestselling author Alice Clayton delivers another delicious, frothy cocktail of a book, shaking up her characters, stirring in laugh-out-loud humor, and serving sizzling romance straight up!
AAAAAND THEY'RE BACK!!!! SIMON AND CAROLINE ARE BAACK!!!!! 🙂 🙂 When I first saw Rusty Nailed on my Kindle, I couldn't stop staring because I was just SO excited 🙂 And then I dove right in! I really like Rusty Nailed. To be honest, not as much as Wallbanger because it wasn't as funny, but it was such a great read because of the characters, especially my favs, Simon, Caroline, and of course, Clive the cat (: And of course, the support staff: Mimi, Sophia, Ryan, Neal, and Jillian made their appearances! YAY!
Alright, so, Caroline? Yup. Still the gorgeous, witty, hilarious, and best heroine ever. Except, now we get to see the angsty side of her. Rusty Nailed was more on the after-happily-ever-what-could-go-wrong side, in that a lot of the book was Simon and Caroline exploring their relationship and figuring out how to balance everything in their lives while moving forward. So, there was a bit more drama and NO NO NO!!! moments in this one. But I LOVED IT. I loved the trouble and angst because it made the book so engaging and easy to read and so easy to stay in touch with the characters and their feelings. So, basically, I really loved it because of Caroline's down-to-earth, no shitting me attitude. I seriously love her. Because of her character and narration throughout the book, awkward moments became hilarious, and funny & cute moments were ADORABLE. So, even though this book wasn't as funny as Wallbanger, it was still hella funny 🙂
AND SIMON!!!! hehe. 😉 Simon is seriously the greatest man ever. He is funny, sooooo kind, GORGEOUS, HOT, and of course, a world-traveling photographer. So, basically, the perfect man. 😉 And the perfection continued in Rusty Nailed. Simon was completely adorable once again. The obsession with the breads ( and every other food the Caroline makes) makes an appearance! YES! And every time, it is the funniest thing ever when he's drooling over food. And more than that, he's the sweet Simon too! But he's a sweet Simon with a bit of sass and lots of humor too.
.."Look, I adore you, and I want a home. Again. With you."

That did it. Cue the waterworks.

"You're killing me Simon." I sniffled, tears and nose beginning to run.

"I know. I'm very cute when I'm vulnerable," he said, making me snort in a very unladylike manner.
HEHE SEE!!! Simon and Caroline are totally back 🙂 I really love the easygoing yet serious relationship that Simon and Caroline have. I think in Rusty Nailed, a lot of the tensions are outside factors, like work and friend drama, but they always get through it, whether it's with little moments or a huge blowout of emotion. I absolutely love how they're so funny and complement each other so well, and it was such a great read, to see them strike, yet again. Their relationship is the best.
"Well, good goddamn, Dr. Phil, color me impressed," I said, clinking my coffee cup next to his. "So what do we do next? Y'know, as people in a relationship after they've resolved a conflict?"

"Pretty sure a blow job should follow this," he said seriously.
HAHA
So, even though we actually see a lot of Mimi, Ryan, Neal, Sophia, and Jillian, Simon and Caroline are still, hands-down, my favs 🙂
 They had me laughing until my stomach kind of hurt, and clutching my bed sheet in fear in their angsty moments, so it was kind of fantastic 😉
Rusty Nailed was a great read. It was a great mix of everything you want to see in a book. It had the
**********************************************
FOLLOW/LIKE Alice Clayton, because she's incredible, and you want more of her great writing @
OTHER BOOKS FROM ALICE CLAYTON:
The Cocktail Series:
The Redhead Series:
To see all links go to:  http://pages.simonandschuster.com/alice-clayton/