Title: Trust Me, I'm Lying by Mary Elizabeth Summer
Synopsis
       Julep Dupree is good at telling lies. She has to be if she wants to stay at St. Agatha's, the swanky private school where she runs petty scams that earn her tuition money. Luckily, deception is just part of the family business.
But when Julep comes home to a ransacked apartment and her con artist father missing, things get serious fast. Tyler Richland, a senior with a hotness factor approaching solar levels, offers his help, and suddenly Julep's life gets even messier. She has to follow a trail of clues through a maze of creepy stalkers, hit attempts, and family secrets. Julep is in way over her head . . . but that's not going to stop her from using every trick in the book to find her dad before his mark finds her. Because that would be criminal.
Release date: October 14, 2014
Publisher: Delacorte Press
ISBN: 9780385744065 (hardcover); 9780385382885 (ebook)
About the Author

Mary Elizabeth Summer contributes to the delinquency of minors by writing books about unruly teenagers with criminal leanings. She has a BA in creative writing from Wells College, and her philosophy on life is "you can never go wrong with sriracha sauce." She lives in Portland Oregon with her partner, their daughter, and their evil overlor—er, cat. TRUST ME, I'M LYING is her debut novel.
Twitter | Facebook | Goodreads | Pinterest | Tumblr | Web
Giveaway by Ms. Summer
http://www.yabookscentral.com/blog/cover-reveal-trust-me-i-m-lying-by-mary-elizabeth-summer-giveaway-international
♥ ♥ ♥ ♥ ♥ ♥ ♥ ♥ ♥ ♥ ♥ ♥ ♥ ♥ ♥ ♥ ♥ ♥ ♥ ♥ ♥ ♥ ♥ ♥ ♥ ♥ ♥ ♥ ♥ ♥ ♥ ♥
 Title: Vampires of Manhattan (The New Blue Bloods Coven) by Melissa de la Cruz
Release Date: September 9th, 2014
Pre-Order! Amazon
Synopsis:
The Vampires of Manhattan is "hipster horror"–the memorable characters from her Blue Bloods series are older and cooler than before, trying to build "Millennial" lives in the bustle of Manhattan while battling forces of evil and, of course, each other.
Hero of this sexy, paranormal action tale is Oliver Hazard-Perry, former human conduit, and Manhattan's only human-turned-vampire, now the head of the Blue Bloods Coven. When his all-too-human lover is found murdered on the eve of the coven's annual Four Hundred Ball–a celebration meant to usher in a new era in vampire society, and to mark the re-unification of the Coven after decades of unrest and decay–Oliver is devastated.
Now, not only is he trying to create a new world order for the immortal elite, he's the prime suspect and is stalked by the newly installed head of the vampire secret police. Because according to the new rules, vampires who take human life can now be executed. Burned.
How can an immortal sentenced to die fight back? He has to find the killer–and the answers lie deep in vampire lore.
About the Author
Melissa de la Cruz is the New York Times and USA Today best-selling author of many critically acclaimed and award-winning novels for teens including The Au Pairs series, the Blue Bloods series, the Ashleys series, Angels on Sunset Boulevard, Girl Stays in the Picture, and the semi-autobiographical novel Fresh off the Boat.
Her books for adults include the novel Cat's Meow, the anthology Girls Who Like Boys Who Like Boys and the tongue-in-chic handbooks How to Become Famous in Two Weeks or Less and The Fashionista Files: Adventures in Four-inch heels and Faux-Pas, and the Witches of East End series.
She has worked as a fashion and beauty editor and has written for many publications including The New York Times, Marie Claire, Harper's Bazaar, Glamour, Cosmopolitan, Allure, The San Francisco Chronicle, McSweeney's, Teen Vogue, CosmoGirl! and Seventeen. She has also appeared as an expert on fashion, trends and fame for CNN, E! and FoxNews.
Melissa grew up in Manila and moved to San Francisco with her family, where she graduated high school salutatorian from The Convent of the Sacred Heart. She majored in art history and English at Columbia University (and minored in nightclubs and shopping!).
She lives in Los Angeles and Palm Springs with her husband and daughter.
♥ ♥ ♥ ♥ ♥ ♥ ♥ ♥ ♥ ♥ ♥ ♥ ♥ ♥ ♥ ♥ ♥ ♥ ♥ ♥ ♥ ♥ ♥ ♥ ♥ ♥ ♥ ♥ ♥ ♥ ♥ ♥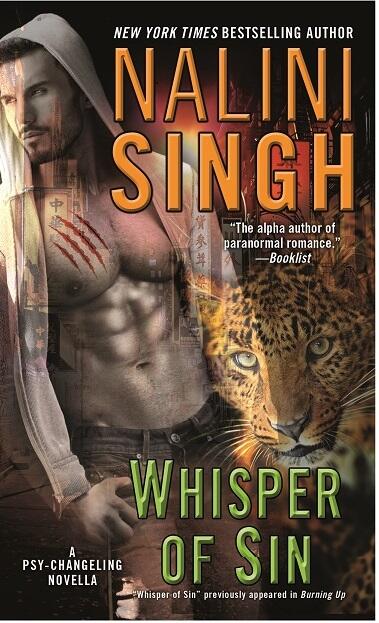 Title: Whisper of Sin by Nalini Singh
**originally part of BURNING UP…now being release as a separate e-book 🙂
Release Date: February 25th, 2014
Publisher: Penguin Group USA
Pre-Order! Kindle
Synopsis
A PSY-CHANGELING NOVELLA BY "THE ALPHA AUTHOR OF PARANORMAL ROMANCE" (Booklist)
New York Times bestselling author Nalini Singh returns to her phenomenal Psy-Changeling world as a woman in peril finds herself in the arms of a dangerously beautiful shapeshifter…
San Francisco is under threat from a violent gang…a gang that has no idea who they're challenging. The DarkRiver pack of leopard changelings has already claimed the city as their territory, and they will fight with wild fury to protect its residents.            Emmett, a lethally trained leopard soldier, isn't about to let outsiders muscle in on his home ground—especially when they target a human named Ria.
Emmett has one word for the smart stranger with her curvy body and tough spirit: mine.
Possessive, dominant, unyielding in his demands and desires, Emmett is unlike anyone Ria has ever before met. But while the sexy leopard changeling makes her body ignite, his kisses molten and his touch addicting, she's no pushover and she has a few demands of her own. This leopard has met his match…
"Please note that Whisper of Sin is a reissue. It was first published in the multi-author anthology, Burning Up. This is the worldwide stand-alone ebook release for those who wanted to buy only this novella from the anthology.
For those of you who have Wild Invitation, this novella wasn't in that collection." – Nalini Singh